Professional Friendly Caring
Experts in Eye Health and Style
Welcome to The Glasshouse Opticians
We are an Independent Optometrists who provides specialist eyecare services for all and, being independent means we can put you first. Along with our highly trained and talented team providing a high level of personal and professional service, our practice provides you with latest hospital grade eye testing equipments.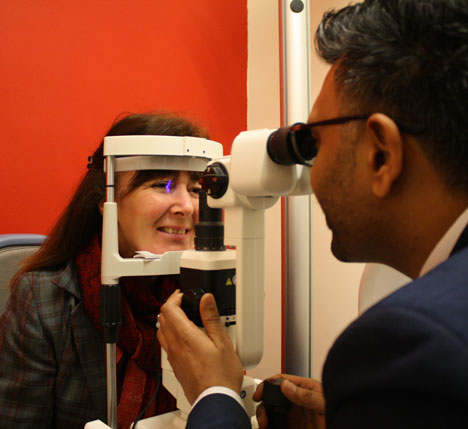 We travel far and wide to source the latest eyewear styles. Exhibitions in Milan, Paris, Munich, London or Birmingham are visited each year to be able to provide you with the eyewear you will be amazed by.

From Traditional to niche frames at very affordable prices.
Here is what our customers think of us.......
Click on 'Facebook Reviews' or 'Google Reviews' below to see all of our reviews in full. Donna Hesbrook-Edwards
19th March 2020
Fantastic service every time, lovely people, helpful, kind and understanding, especially with a rare eye condition my daughter has had since birth. Also support the community too Ken Swinton
28th February 2020
I have been using Glasshouse for several years and always had excellent service from Nav and his team. Always ready to help and is very approachable. Remember what they say, 'Should have gone to 'The Glasshouse' Darren Bond
26th February 2020
Friendly staff, full range of optical tests and a patient optician.Nothings too much trouble at my favourite opticians. Charlotte Clarke
21st February 2020
Cannot recommend enough. I always go to the Glasshouse and always get a warm welcome from all of the friendly, professional staff. Nav is so approachable and amazing with the kids from toddler to Autistic teenager…….. Kelly Louise Plant
20th February 2020
Nav and all the staff at Glasshouse are fantastic, over the past 18 months we've been in there that many times for our little girl I've lost count. They have been brilliant and with their……. 👍 Carole Baker
21st February 2020
Brilliant service from Nav and his team. Nothing is too much trouble. The eye test and contact lenses check was very thorough. New specs arrived within a week and sample lenses given to try………. Kev McNamee
7th February 2020
Best opticians by far. Lovely staff and Nav (optician) is great. I have been to all the big high street opticians in the past but never again, The Glasshouse Opticians is a different league. Julia Price
11th February 2020
Would highly recommend The Glasshouse. We all go there for eye tests , so friendly and yet very professional . My daughter has struggled with her eyesight and has been helped massively . Great choice in frames ❤️ Farah Azam
20th December 2019
Absolutely love Glasshouse and all their friendly staff! Nav is the top gun and such a nice guy whose great at what he does! These guys have been our family Opticians for many years now……. Laura Janusch
20th February 2020
Nav is an absolute super star. he has been looking after my eyes for years including the time I picked up a nasty bug in my eye from a holiday pool in Greece. He is so helpful….. ⭐⭐⭐⭐⭐ Andy Parkes
20th December 2019
Nav and his staff are fabulous. The difference from my High Street experience to this specialist run Opticians is amazing. He is so attentive, professional and up to date with current thinking and equipment. It's no exaggeration……. Romella Jones
14th December 2019
From the moment my daughter needed glasses age 7, we've had exceptional service here. Very friendly staff plus the most amazing range of kids glasses! She always tries on about 10 pairs! Highly recommend Sandra Scott
19th December 2019
Friendly, professional staff, caring and understanding. Really funky glasses after a lot of patient searching. Thanks Nav, Sarah and Anita. Christine Salmon
20th February 2020
The glasshouse has the latest equipment in a warm welcoming environment. Eye tests are second to non with no pressure when picking new glasses. Gina Hendy
December 2019
Absolutely, fantastic service from all of the team at the glasshouse. Really friendly, helpful and professional. My little girl was put at ease during her first ever eye test & was made to feel extra special….. Dave Morris
February 2020
Can't think of a bad word to say about this opticians, they go out of their way to help you, lovely people 👍👍 Kate Edwards
December 2019
Was really impressed with the service and care provided. They got me booked in really quickly and spent time helping me find a suitable pair of frame. Would recommend 😊😊 Sarah Jessel
January 2020
Nav has been absolutely brilliant. Had a really bad experience with a High Street opticians.. Who coincidentally have just opened in Newport... I knew my prescription from them just wasn't right, but they were adamant it was…….. Mel W
November 2019
Absolutely fantastic! Nav & his team are so helpful and friendly....top customer service coupled with professionalism and great attention to detail. Would not go anywhere else. Joanne Bentham
December 2019
What a truly fantastic optician's. Nav and his team are so friendly, helpful and professional. This really is a gem of an optician's John Phillips
April 2019
Nav and his wonderful team make you so welcome at the Glasshouse, I would never go anywhere else. Couple that with the genius of the man and you have the full package. Always a pleasure…… Gemima Brettell
May 2019
What an incredibly professional establishment with a fast turn around, exceptional optician and a welcoming team that provide a superb eye testing experience! Adam Neale
April 2019
Such a great optometrist. Our daughter had a very bad eye Infection, this is the first optician who has really looked at the issue and gave great advice. The advice was spot on and the follow up……… Neil Dillon
April 2019
Nav and his team provide excellent service with specialist advice and support readily available. From eye tests to follow up treatment, the level of customer care is of the highest quality whilst also offering a superb….. Dianne Grigsby
a year ago
This has got to be the BEST Opticians in Shropshire. Nav is the kindest, most helpful man and his staff are equally as good. We've been going to him for over 15 years now…… Jaspal Grewal
a year ago
Great value, outstanding service and a huge range of designer glasses and sunglasses to choose from. I ordered a pair of bifocals and was really amazed with high quality. The lenses were really thin…….
Our mission is to provide the highest quality eyecare to the people of Newport and the surrounding area. We aim to provide this with your best interests at heart. We create a very comfortable atmosphere where you will feel relaxed to make your informed decisions.
Our focus is you. Whether its booking an eye test or discussing the choosing from our wide range of glasses or contact lenses. We will provide expert advice on the best style frames or contact lenses to suit your individual needs.
We are proud to say we endeavour to stay ahead of the game! We invest regularly so we can offer diagnosis and treatment using the latest hospital grade equipment. In turn to ensure providing the very best outcome for our patients. Please see our 'Services' page…!
The Glasshouse Opticians - offering a full ranges of eye health treatments, examinations and support.
Navdeep Kohli – Optometrist
Our Optometrist Navdeep Kohli BSc (Hons) MCOptom, known to all as Nav, was born in the Midlands. His journey in eye care began at the age of 15 when he started working for a local independent optician.
He initially studied Medical Biochemistry at the University of Birmingham passing with honours. After graduating he continued his education and successfully passed his second degree with honours in Optometry at the University of Manchester.
Nav has gained valuable experience working first at the City Hospital Ophthalmology, Birmingham, aiding consultants in all aspects of optometry and then at other high street opticians.
Nav has been working at The Glasshouse Opticians in Newport since 2009 where his passion for providing exceptional eye care led him to pursue several further qualifications with WOPEC (Wales Optometry Postgraduate Education Centre), dry eye management and cataract assessments.
His dedication to providing friendly, expert service that really sets him and The Glasshouse Opticians apart. Nav has built a team to support him and who share his passion for consistently providing honest, professional advice and first rate eyecare products.
Sarah Cummings – Practice Manager
Sarah brings, kindness, joy, dedication and excellent personal service to our practice. Along with her 20 years optical experience (and many years of life experiences!) also comes her passion for this profession. A mix certainly worth experiencing!
Anita Bond – Senior Advisor
Anita began her journey 22 years ago in optometry. She brings a wealth of experience to the Glasshouse. Her caring, warm, honest personality has helped thousands of patients over the years.
For the friendly, caring and welcoming team at Glasshouse Opticians, nothing is too much trouble. We are dedicated to providing exemplary eye care and the best in customer service, so we give 100% to our patients at every step of the way.
Why not visit and see for yourself the welcoming smiles and service that we can provide?